Opening Hours
Reduced entry on weekdays
Mon - Sun
16:00 - 21:00
Location of the Exhibition
Horse Racing Circuit – Petržalka
Starohájska 29
851 02 Petržalka, Slovensko
Buy Tickets
Online tickets without waiting at the box office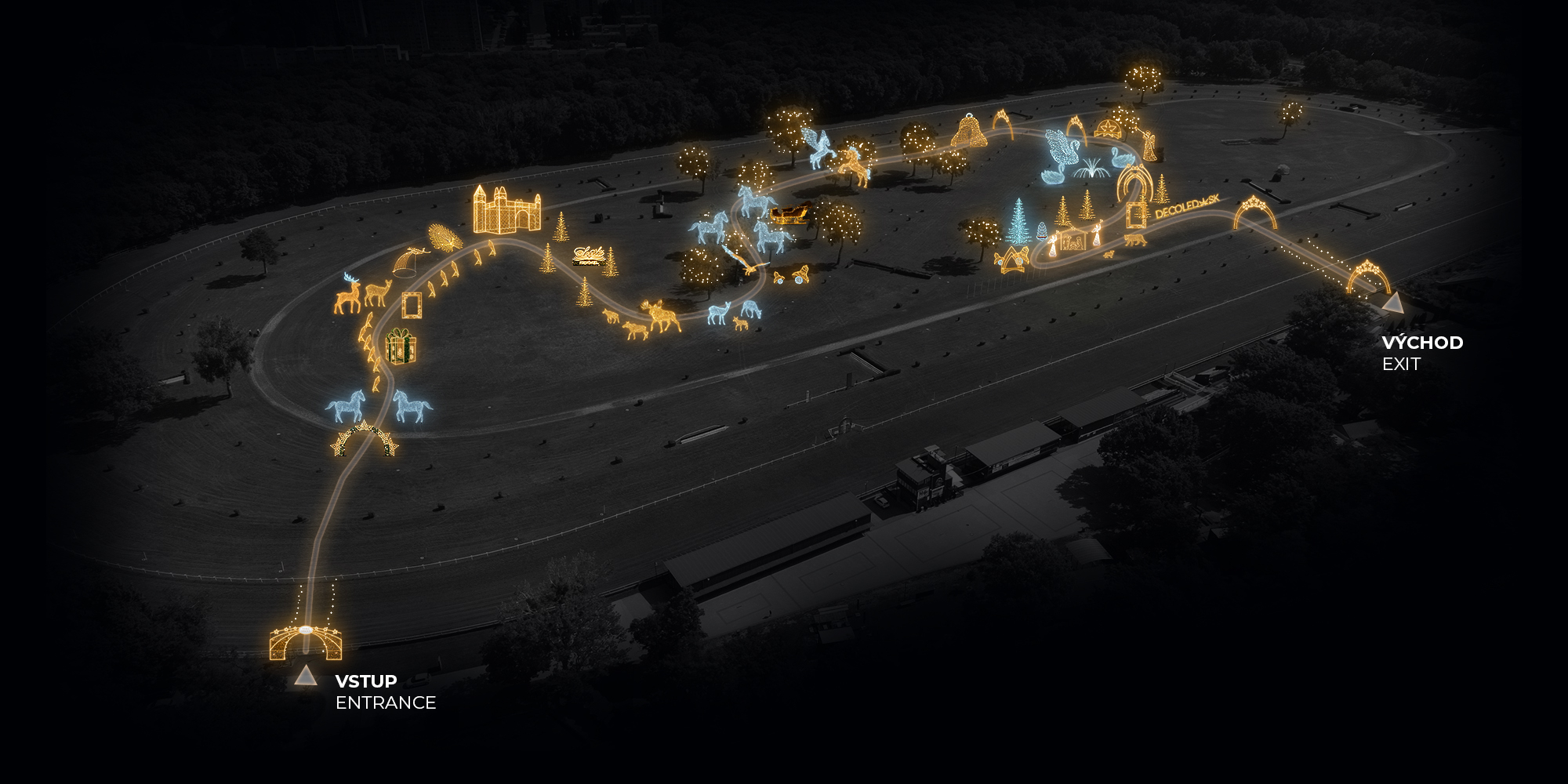 "Lights Tell…" Bratislava, Horse Racing Circuit – Petržalka
Come with us into the fascinating world of the light exhibition "The Lights Tell…" in Bratislava. On the grounds of the Bratislava racetrack we have prepared a unique light park with breathtaking sculptures, tunnels and decorations. The exhibition is dominated by a replica of Pressburg Castle, but also a whole range of animals, including of course horses.
Hundreds of thousands of LED light-emitting diodes, large light sculptures, kilometers of fairy lights and decorations. Don't miss a unique experience for the whole family, from children to grandmas. Everyone will have fun in our light park. A unique exhibition from the workshop of designers and craftsmen from the family business DECOLED takes you into the fairytale world of hundreds of thousands of lights.
Did you know that, thanks to state-of-the-art LED technology, the 400,000 lights in our park use just as much electricity as a normal washing machine with energy label A? We treat the planet and energy sources with the greatest possible responsibility.
We recommend purchasing tickets online here on the website. Online tickets are without waiting at the box office.
We look forward to seeing you!
Your team, The lights tell.. Bratislava, Horse Racing Circuit – Petržalka.
December
| | | |
| --- | --- | --- |
| ADMISSION CATEGORY | MON - THURS | FRI - SUN |
| Adult (16+) | 12€ | 14€ |
| Discounted* | 10€ | 12€ |
| Family** | 34€ | 39€ |
*DISCOUNTED = Children 3-15 years old, students with an ISIC card and seniors over 62 years old
**FAMILY = Valid for 2 adults and up to 3 children aged 3-15 years
Disabled and children under 3 years old have free entry
On December 24, 2023, the exposure is closed
The ticket is one-time - valid only for one visit to the illuminated exhibition of your choice
January
| | | |
| --- | --- | --- |
| ADMISSION CATEGORY | MON - THURS | FRI - SUN |
| Adult (16+) | 10€ | 12€ |
| Discounted* | 8€ | 10€ |
| Family** | 28€ | 34€ |
*DISCOUNTED = Children 3-15 years old, students with an ISIC card and seniors over 62 years old
**FAMILY = Valid for 2 adults and up to 3 children aged 3-15 years
Disabled and children under 3 years old have free entry
The ticket is one-time - valid only for one visit to the illuminated exhibition of your choice